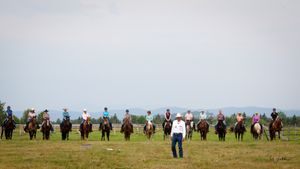 Super Camp with Kathy Baar, 5-Star Master Instructor
and Senior Horse Development Specialist
~ Fundamentals of Horsemanship ~
July 25 - 29, 2022
Super Camp 2022 Level 3
Equine Psychology and developing happy harmonious horses. 
Understand the goal of each game and the quality to seek in developing your partnership.   The 7 Games are simply the skeleton of your communication. 
Develop a solid foundation and a willing partner whether you're a recreational rider or have competitive goals.  The more solid a foundation the safer you will be and the further along and more prepared you'll be in your specialty.
Riding perfect circles

Refining lateral movements to improve your horse's balance and power

Creating straightness within the gait and during transitions

Purity of gait
Patterns:
Riding Pie Slices with Carrot Sticks

Refinement and laterals on the cloverleaf

Wagon wheels for perfect circles

Riding crooked to create straightness

Forward to Purity of Gait
Day 1: Morning- 7 games challenges
Afternoon- Effective ground preparation, riding
Day 2: Morning- Harmony tasks, liberty
Afternoon- Group riding sessions
Day 3: Morning - Refinement skills, riding
Afternoon - Demos and private lessons
Day 4: Morning - Liberty, riding
Afternoon - Demos and private lessons
Day 5: Morning - Skill games and challenges, problem solving
Afternoon - Creating a plan for progress when you leave
Bio:
Kathy has been a Parelli Instructor since 2002. She was part of the original Parelli Faculty and taught for 5 years at the Parelli Center under the guidance of Linda and Pat Parelli. Before joining the faculty she was fortunate to spend over 6 seasons studying at Linda and Pat Parelli's Study Centers. Her studies included several Eventing courses with David and Karen O'Conner along with Pat and Linda as well as an opportunity to travel to Australia and participate in a Colt Start held by some of Pat's top instructors along with subsequent opportunities to study Colt Starting with Pat and his top Instructors.
Among her travels she has also studied at Craig Johnson's Three Circles Ranch in Gainsville, Texas; and had the opportunity to start colts at one of the top racehorse breeding farms, WinStar Farms, in Kentucky. Kathy also had the opportunity to participate in lessons with dressage master Walter A. Zettl. Kathy is currently teaching in the field and based in Kentucky.
Kathy Baar is also a USDF Gold Medalist, Author, and Horse Development Specialist. She has been studying and teaching Natural Horsemanship for over 20 years, combining the happiness of the horse with the results needed for competition and Horse Development.