Clinics
---
Kari Bowser 3-Star
Level 1+:  June 2-4 
Level 2:   June 30- July 2
Lauren Barwick  4-Star and Paralympian
Level 3+:  August 7 - 11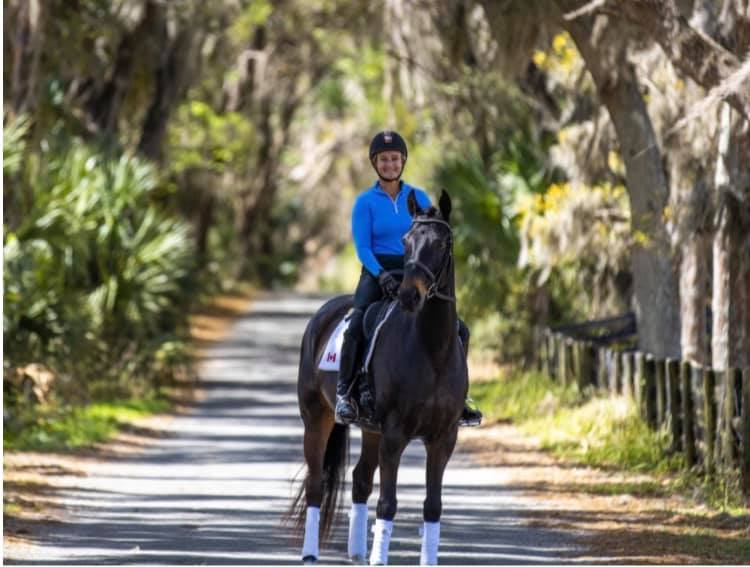 2022  Canadian Equestrian of the Year
One of Canada's most decorated Para-Dressage athletes with two Paralympic Games and two World Equestrian Games medals.  Also competes in para reining.
I enjoy working with people that want to help their horses last a lifetime because they are using themselves correctly. Creating a balanced horse bio-mechanically. A horse that enjoys and understands its training sessions because we addressed its emotional and mental needs. 
---
"Kari est une pédagogue extraordinaire, elle partage une finesse dans l'accompagnement de l'apprentissage de la philosophie Parelli. La relation avec mon cheval est en pleine métamorphose, toujours plus de confiance nous relie un à l'autre, grâce aux enseignements de Kari, je vous recommande sans retenue ses formations !!!" Christian
"Lili played with Leo. He was perfect ! She was calm and assertive. I played with Rosie and wow, she has power backup mode! who knew :-) Can't wait to have you back, it inspired us and we were communicating much better today." Jessica  
"Nous avons séjourné 3 jours chez Kari afin d'y découvrir la méthode Pat Parelli. Nous avons été enchantées par les enseignements de Kari, sa pédagogie, son savoir-faire et sa volonté de transmettre sa passion. En plus nous avons appréciées le site de Harmony Hills: vraiment superbe. Le tout est à découvrir. Encore Merci pour tout Kari."  Marmotte Belette
"I have been boarding my horse at Kari Bowser's place this summer and it was the best decision I have ever made for my horsemanship.  By being at Karis' place, it allowed me to be merged in the Parelli world as I never experienced it.  Kari, with the support of her family, has built a Parelli paradise that allow students to live and feel what Parelli is all about.  Workshops, organizing clinics and personal coaching are many ways Kari is helping those who would like to pursue their levels including myself.  We need more people like Kari in Quebec to share what Parelli vision is all about.  Professional, committed and dedicated to her passion are only a few of her many qualities.  She has great communication skills which makes it easy for her to explain the most complex subjects.  She has helped me so many times since we first met that my horse and I are forever grateful." Nadine
"I just want to tell you that I really appreciated my Parelli lesson with you last Friday.   Since that day, something very special occurred...  When I am returning my horse in the field with his friends, he usually goes immediately as I remove the clip from the halter and he doesn't look back to me.  But Friday, when I let him in the field after my lesson, he went away from me but after two or three strides, he came back to me and followed me while I was returning to the barn...  He stayed near the fence looking at me until I was almost between the barn and the field (I was very surprised so I was taking some little looks at him ...)    And this is like this every day now!  :-)" Isabelle
"I met Kari when a friend gave me her name because she knew how much I needed help with my new horse. I spent more than a year every day working with various methods to make my horse and I a team.  .... finally, this happened at my new teacher's place. After having known Kari and Parelli this allowed me not just to find how to become a partner with my horse but also allowed me to meet myself as a human. My evolution through her teaching is always increasingly fantastic. Last summer, with Kari, I spent an intensive 8 days of connection with my horse ... now I just came back of another week at her barn. This will become for me a necessary vacation for my horse and I. I am always in deep admiration with her professionalism, her way of sharing her knowledge is unique and it makes us constantly understand our horse, as well as ourselves. Now I can see what a real partnership is thanks to her teaching as well as the Parelli world. I am amazed of what it brought me and Miss Bill and still for all that I have to learn. I become a better person so my horse and I have become a great team." MC